Error 645 Discussion Board If the fixes below didn't work... Post your problem / solution here!!



Error 645 from Microsoft Dial Up Networking "Internal Authentication Error"



Google News Information Error 645



Microsoft Support Page Error 645



SYMPTOMS
When you attempt to establish a connection with Dial-Up Networking (DUN), you may receive the following error message:
Error 645 - Dial-Up Networking could not complete the connection to the server.

Solution #1
This behavior can occur if the Require encrypted password option is enabled on the Server Types tab in
the connection's properties.
RESOLUTION
To resolve this behavior:
1. Click Start, point to Programs, point to Accessories, point to
Communications, and then click Dial-Up Networking.
2. Right-click the icon for your connection, and then click Properties.
3. Click the Server Types tab, click to clear the Require encrypted password
check box, and then click OK.
4. Enable Software Compression and TCP/IP should be the only two property boxes check marked.


Solution #2
What's A Modem Init String?
Try adding modem init string ATZ. This seems to work with many laptop computers.
How To Add a Modem Init String


Solution #3 (Laptop Computers w/PCMCIA cards)


Try moving modem card to another PCMCIA card socket.


Solution #4
Remove and reinstall the Dial-Up Adapter and Dial-Up Networking. To do so, use the following steps:
1. Click Start, point to Settings, and then click Control Panel.
2. Double-click Network.
3. Click Dial-Up Adapter, and then click Remove.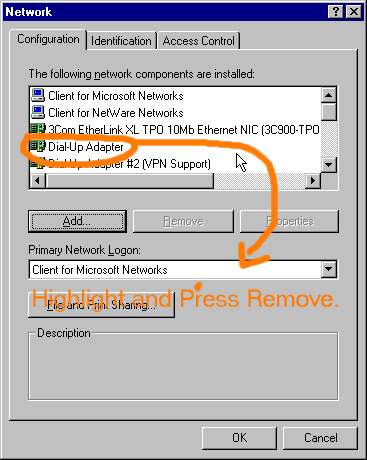 4. Click OK.
5. When you are prompted to restart your computer, click No.
6. Double-click Add/Remove Programs.
7. On the Windows Setup tab, click Communications, and then click Details.
8. Click the Dial-Up Networking check box to clear it.
9. Click OK until you return to Windows.
10. Close Control Panel, and then restart the computer.
11. Go to My Computer, Dial Up Networking, and try to reconnect.


Solution #5
Create a connectoid in Dial Up Networking
Make sure that Log onto Networks, IPX/SPX, NetBeui is uncheck marked in Server Types.

Check winsock.dll and wsock32.dll location and sizes
Delete all existing connectoids in DUN, as well as shortcut to desktop.
Go into Control Panel, Network and remove all components.
Reboot
In Control Panel, Add/Remove programs, windows setup tab uncheck connection. click OK...
In Control Panel, Add/Remove programs, recheck connection, click ok.
Reboot if prompted.
Go into control panel, Network, Add Client for Microsoft Network, Dial up Adapter, Tcp/IP.
Click Tcp/Ip than properties. Make sure that Wins Resolution and DNS is disabled. Click OK...
Reboot computer when prompted.

| | |
| --- | --- |
| | c:\windows\options\cabs\msmoney6.mts |

If Windows 95, Try uninstalling Microsoft Dial Up Networking? In add/remove
Retype password
Reinstall DUN
Log off ...? Existing profile, log on?